Commercial Grade Go Aerosol SPRAYWELD by FutureTools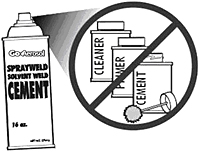 Go Aerosol Sprayweld


Only one item does the job of three

Broad Cove Associates is the exclusive distributor for Canada, and the following states: New York, Connecticut, Massachusetts, Vermont, Maine, and New Hampshire.

Go Aerosol SPRAYWELD is a one step Primer and Cement for PVC and ABS Pipes. It's a cleaner, primer and cement all in one! US Patent #s 6652704 and 7008985.
Sprays at any angle, even upside down
50% more coverage with spray applicator
No more mess or loss due to air exposure, contamination or spills.
Goes twice as far as brush or can methods
Works in a wider range of temperatures
ASTM Standards Go Aerosol SPRAYWELD meets or Exceeds
Exceeds ASTM D-2564 (PVC)
Exceeds ABS ASTM D2235
ASTM D-3138-95 9ABS (PVC Transition
ASTM -F 656 (Primer)
Complies with SCAQMD-1168 (VOC Compliance)
IAPMO Certification to NSF/ANSI-61
Go Aerosol SPRAYWELD
SWCP-100: Purple Dye for drain waste and vent
SWCC-101: Clear Multi-purpose
SWCG-102: Gray for PVC Conduit
Please contact us for pricing.