Pipe & Construction Supplies


Broad Cove Associates is the full line distributer for all of New England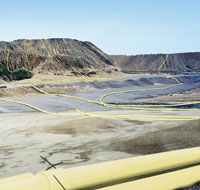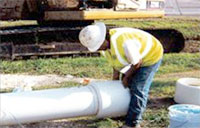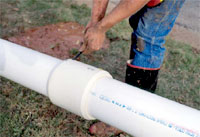 Restrained joints lock lengths of pipe
firmly together and can be made as
fast as lengths of drill pipe are
removed from the drill string, making it
unnecessary to assemble a long string
of pipe for installation.
Mining PVC Pipe - Advantages of CertainTeed Certa-Lok PVC Pipe for Trenchless Installations
Keeps system 100 percent PVC
Certa-Lok PVC pipe joints are extremely strong
C900/RJ pipe is UL and FM listed
Restrained joints connect quickly
Pipe sections do not have to be assembled prior to installation, saving time, space, and requiring less pull-in force
Simple pipe attachment to drill rod
Pipe will not stretch excessively
A growing number of water utilities are installing C900 PVC pipe the trenchless way, avoiding extensive excavations and reducing surface damage and the disruption it causes. The quality and versatility of CertainTeed restrained joint PVC pipe systems brings the benefits of trenchless construction to public utility projects.

Install CertainTeed C900/RJ™ and Yelomine™ Restrained Joint PVC Pipe the Trenchless Way with Compact Horizontal Directional Drilling Equipment.

CertainTeed C900/RJ PVC pipe, rated for high-pressure municipal water systems, reclaimed water systems, sewer force mains, and fire protection applications, is perfectly suited for trenchless installation with the same compact directional drilling equipment widely used to install conduit for telecommunications and power cable.

When surface conditions make it best to avoid costly and disruptive open-cut construction, directional drills can quickly and economically install PVC pipe—the pipe preferred by most city water and sewer systems. It's not necessary to introduce HDPE (High Density Polyethylene) pipe to an all-PVC system in order to install pipe by directional drilling. Directional drilling is ideal for segments of projects in improved areas where it is important not to disrupt traffic and other activities on the surface. Trenchless installations can be made under streets and highways, through parks and other landscaped areas, beneath streams and rivers, and in environmentally-sensitive locations such as wetlands.

Directional drills can place CertainTeed pipe in diameters up to 16 inches. Twenty-foot sections of CertainTeed pipe are coupled with Certa-Lok™ restrained joints, which are designed to lock the joints together during installation.


---


KWH Weholite - Weholite is a high-quality structured-wall gravity pipe made of PE or PP. The Weholite product range is a complete pipework system for conveying liquids or air, underground, above ground or under water. The Weholite pipe can also be designed and manufactured for low-pressure applications up to 2 bar internal pressure.

Weholite is manufactured in sizes ranging from 300 to 3500 mm internal diameter, and can be supplied in ring stiffness classes up to 8kN/m2. Pipe lengths are normally 12-18m. Various jointing methods are available to suit different application requirements.


Weholite - Benefits
An over-all economical choice
To the designer:
a safe, reliable solution
a comprehensive product range
To the contractor:
easy to handle
quick to install
To the end-user:
a long-lasting, maintenance free system